Verilux® USB C Hub, 5-in-1 Multiport Adapter Type C Hub with 4K HDMI Output,100W PD,100M Ethernet,1USB 3.0 and 1USB 2.0 Ports(upgrade version)
Rs. 3,999.00
Sale price
Rs. 1,599.00
NOTICE: This product is suitable for M1 chip but not M1 Max or M1 pro. NOTICE: When the Ethernet port is not working, please restart your device so that it can automatically install the driver again. To ensure a stable connection, don't use this hub with high power-consumption devices such as some large-capacity hard drives.
Faster and Stable transfer: 2 USB port of 2.0 and 3.0, meeting multi devices work simultaneously. USB 2.0 can be used for daily file or video reading and USB 3.0 can support you to download or upload file quickly and efficiently. Max transfering speed can be up to 5 Gbp/s,saving more time in file and data transfer.
Enjoy 4K 1080P@30Hz HD Visual Experience: The HDMI port of 4K*2K 1080P@30Hz easily project your screen to a larger screen with high definition. Either for home or office use, this USB hub can allow you enjoy better visual experience. For video,movies,livestream, competition,game,presentation.
100W PD Charging Port: Fast charge for any devices with TYPE-C interface,inluding desklamp, powerbank, mobile phone. The 100W USB C PD charging port can fully charge for MacBook Pro 2016/2017/2018/2019,for MacBook Air 2018/2019/2020, for Surface GO, for Google Pixel Book or other compatible laptops.
Equipped with One Ethernet Port:Different devices freely access the into internet.The LAN Adapter offers max 10/100Mbps performance.Comparing the wireless net connection,wiring connection is more stable during work.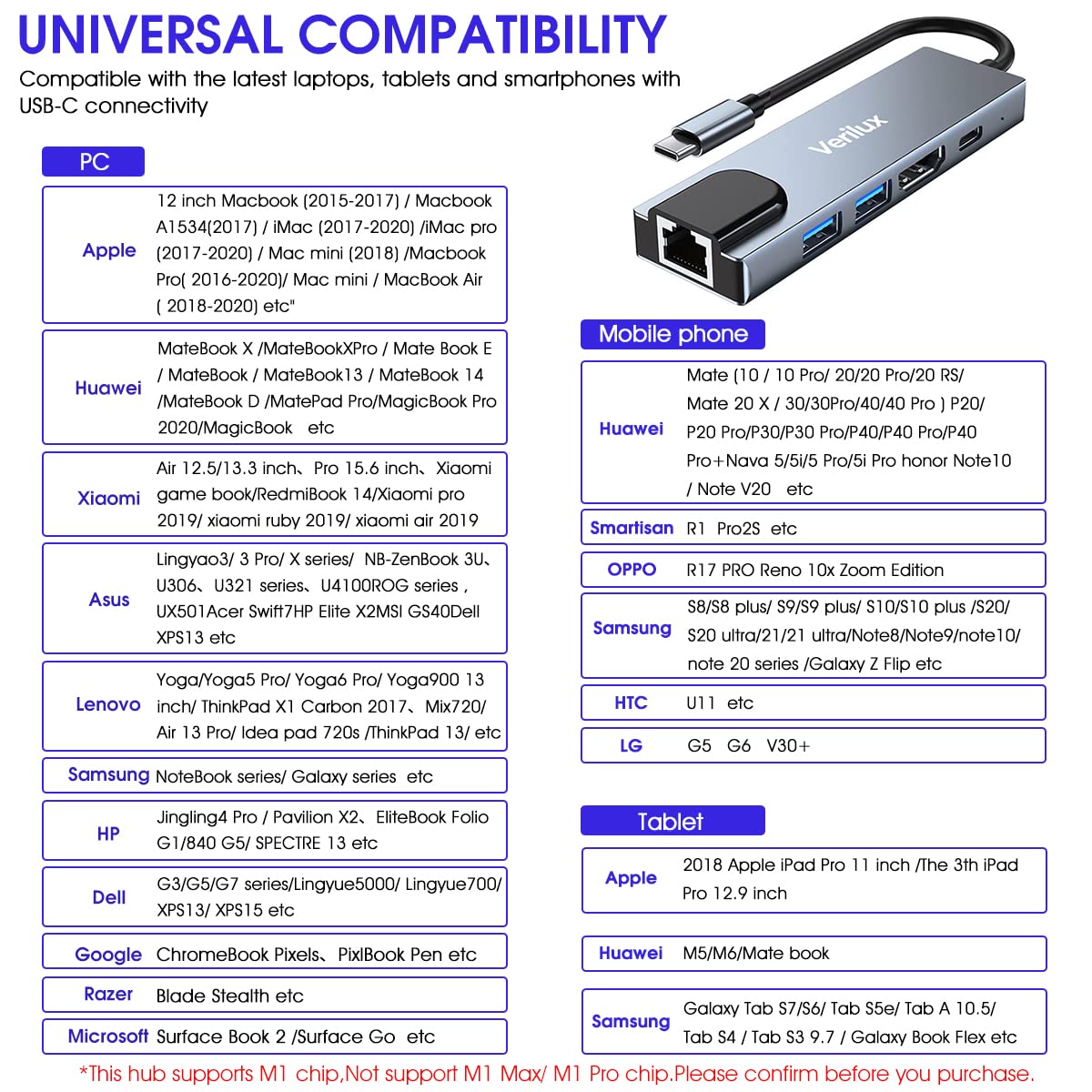 Product description
Specification:
Material: Aluminum alloy
Color:Grey
Connector Type:TYPC-C
Interface Type: PD3.0, HDMI, USB2.0, USB3.0, LAN port
PD Power: 100W
HDMI Output: 4K*2K 3840*2160@30Hz/1080P@30Hz
LAN port rate: 100Mbps
Cable Length: 15cm
Support System: for MAC, for OS Windows, for Linux, for Android
Compatible with Apple: Macbook 12 inch, Macbook Pro 2016/2017/2018/2019/M1, Macbook Air 2018/2019/2020/M1, IPad Pro 2018/2020
Compatible with Asus: Ling Yao 3, Ling Yao 3PRO, Ling Yao X series, ROG series, U4100ROG, U5100UQ series
Compatible with Dell: XPS13, XPS15, G3 / G5 / G7 series, Lingyue 5000/7000
Compatible with Lenovo: Saviour Y7000/Y7000P/Y9000K, YOGA6 Pro, ThinkPad X1 Carbon/Yoga
Compatible with Microsoft: Surface Book2, Surface Go
Compatible with HP: EliteBook Folio G1, EliteBook 1050 G1, Shadow Elf 4 Pro
Compatible with Google: Google PixelBook
Compatible with Xiaomi?Xiaomi Air 12.5/13.3 inch, Xiaomi Pro 15
Compatible with Honor?MagicBook Pro, MagicBook
Compatible with Razer: Spirit Blade/Spirit Blade Stealth Edition