Verilux® 4 USB Ports with USB Hub , High Speed Aluminum Type C Hub, 1 usb3.0 and 3 usb 2.0 -Space-Grey
Rs. 899.00
Sale price
Rs. 539.00
4 Ports USB C Hub: USB extension hub expands 1 to 4 ports which are 1 usb3.0 and 3 usb 2.0, enable your type-c phone/pc/laptop connecting up to 4 USB devices at the same time;Brings you more productivity! Supports Memory sticks, hard disk, mouse, keyboard, digital cameras, camcorders, speakers, scanners, card readers etc. (1* USB 3.0 & 3* USB 2.0)
5Gbps Data Transfer: High speed thunderbolt hub for your PC, MacBook, Mac Pro, Mac Mini, iMac, Surface Pro, XPS,Type-c Smartphone. Data transmission speed up to 5Gbps, 10x faster than USB 2.0. The cable uses tinned copper wire as the transmission conductor to reduce the loss while transferring data. You can transfer HD movies or files in just minutes. (Do not support macbook air m1)
Multi USB Charger: Integrated USB cable for connection to the computer, power is supplied via PC/laptop USB C socket. Can charge your phone while transit data. (Note: The charging speed is slower that your professional phone charger)
Ideal on The Go: This compact and slim type c usb hub is your ideal work helper during the business trip. Take your usb type c connector with you wherever you go. Light weight, compact travel format, easy to carry in laptop bags or backpacks. One fit almost different devices' need.
Safe and Stability:This usb c hub for type-c devices designed with built-in surge protection to keep your devices safe. The overload protection for voltage and current protects the HUB and all connected devices.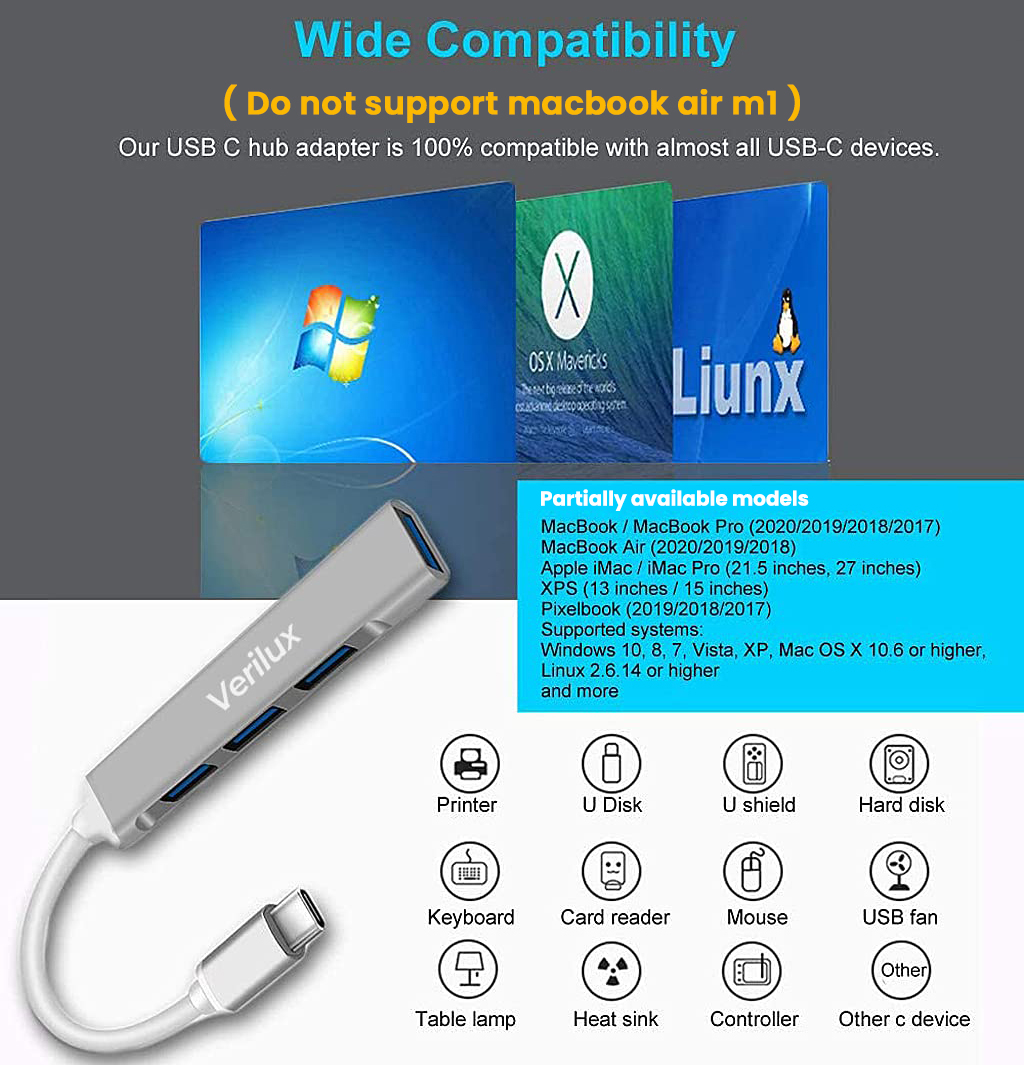 Highlights:
- USB-C Hub, a great choice for expanding one USB-C port into 4 USB 3.0 ports. It can connect 4 USB devices to your latest MacBook, MacBook Pro, HP Spectre 13 or other type-C laptops at the same time.

Product Specification:
Material: Aluminum alloy, ABS
Interfaces: 1* USB 3.0 Type-A Port
3* USB 2.0
Connector: USB Type-C
Dimensions: 108 x 40 x 12mm (L x W x H)
Cable Length: 145mm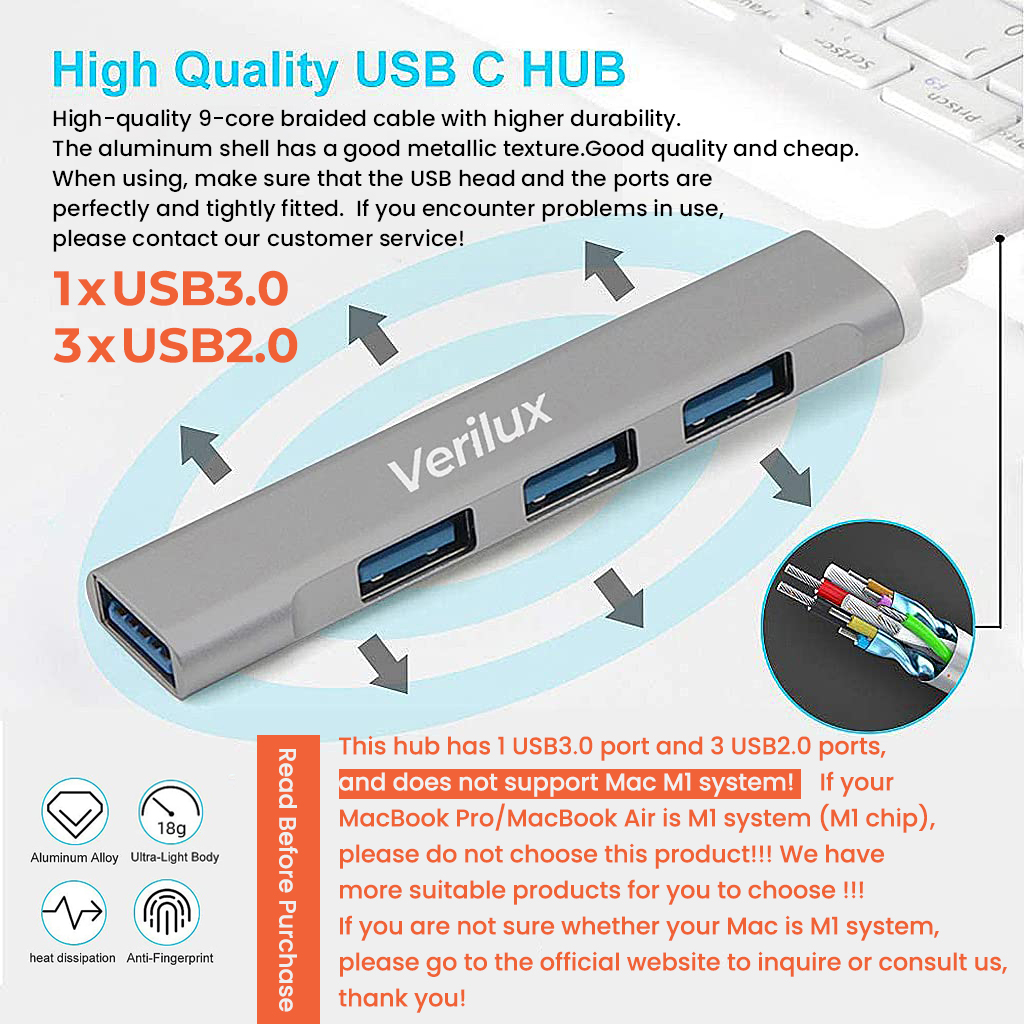 Tips:
- For best performance, devices connected to this hub should not exceed total current of 500mA maximum. Otherwise, output current may become unstable or disconnected.
- Devices below are often rated as follows for your reference:

Mouse: 100mA
Portable hard disk: Max. 500mA
USB 3.0 portable hard disk: Max. 900mA
Keyboard: Max. 500mA

- Please double check the current of your devices before connecting to the hub.
- If you have any issue with your product, please kindly contact us and our customer service team will reply you within 24 hours.