Verilux® 3 meter High Speed Network Patch/LAN Cable 26AWG Cat8 Ethernet Cable
Rs. 1,299.00
Sale price
Rs. 798.00
Heavy duty: The quadruple shielded Cat8 Ethernet cable is super efficient in reducing EMI/RFI Interference and provide highest fidelity for long distance data transmission. With upgraded PVC, Cat8 is waterproofed & anti-corrosion and more durable & flexible for heavy duty work. Can be buried directly. Suitable for both outdoor and indoor use.

Wide Compatibility: With two shielded RJ45 connectors at both ends, the Cat8 Ethernet cable works perfectly for with networking switch, IP Cam, routers, Nintendo switch, ADSL, Adapters, Modem, PS3, PS4, PS5, X-box, Patch panel, Servers, Networking Printers, Netgear, TP-link, NAS, VoIP phones, laptop, Coupler, Hubs, Keystone jack, Smart TV, Imac and other device with RJ45 connectors. Also compatible with Cat7/Cat5/Cat5e/Cat6/Cat6e.

High Speed: Cat 8 Ethernet Extension Cable supports bandwidth up to 2000MHz & Transmitting data speed up to 40Gbps,plug and play to share server files, use a network printer, stream audio or videos and more.

Durable: The Cat 8 ethernet cable wrapped with quality cotton braided cord, which makes the LAN cable stronger and more durable. The test proves that this internet cable can be bent at least 10000 times without broken, very suitable for long-term use.

Weatherproof & UV Resistant: Shielded with high quality UV-resistant PVC jacket, the outdoor rated Cat8 Ethernet cable is anti-aging. It can withstand direct sunlight and extreme cold & humid & hot weather yet still working efficiently. Premium design with great quality.
Superior Performance with Anti-dust Cover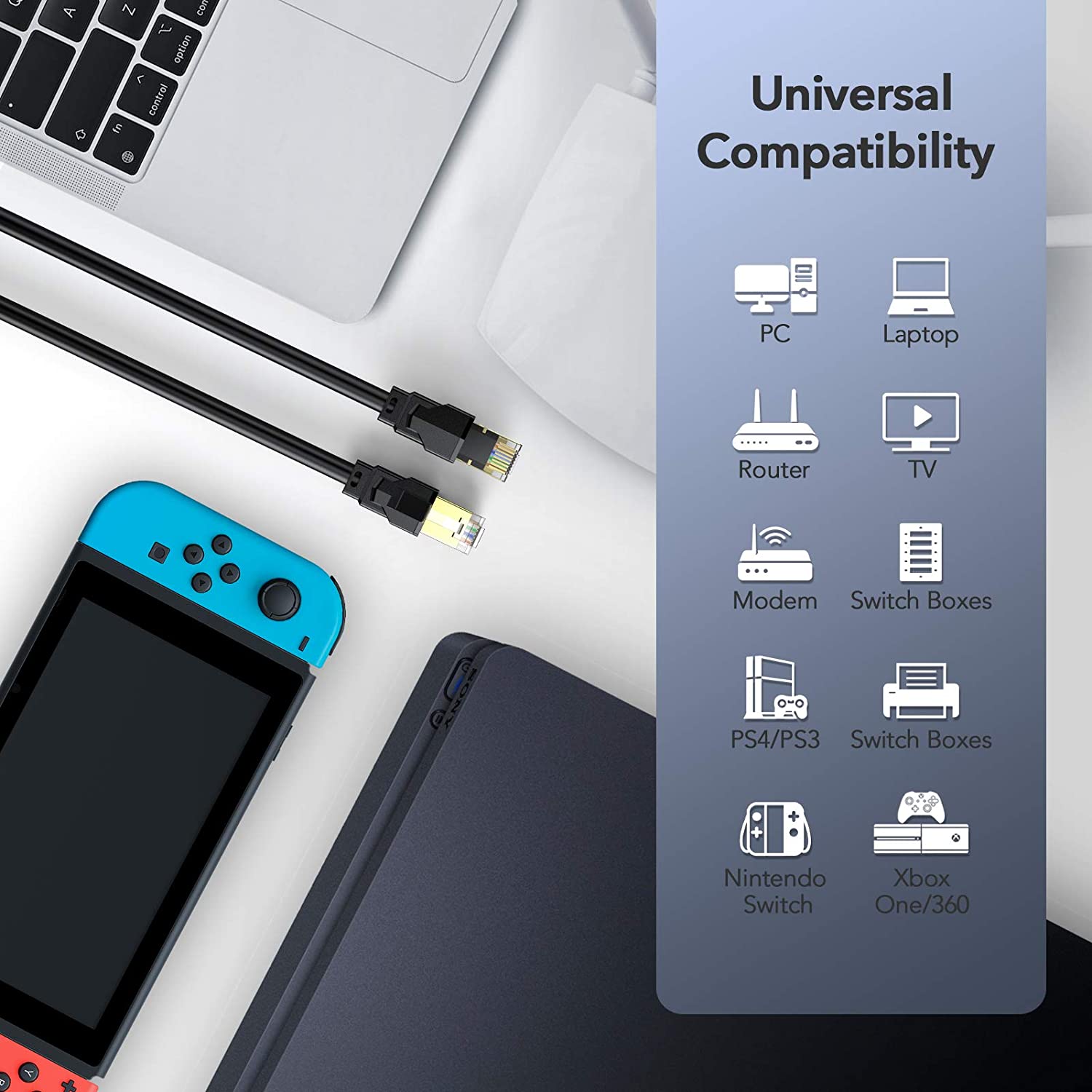 Snagless design for easier unplugging
Molded strain relief eliminates snags, pinching and withstand tangled obstacles
50 µm micron gold-plated contacts improve the signal integrity
Bare copper conductors
Stranded twisted pairs
Inner foil sheaths
Braid
Outer foil sheathCat7 vs Cat8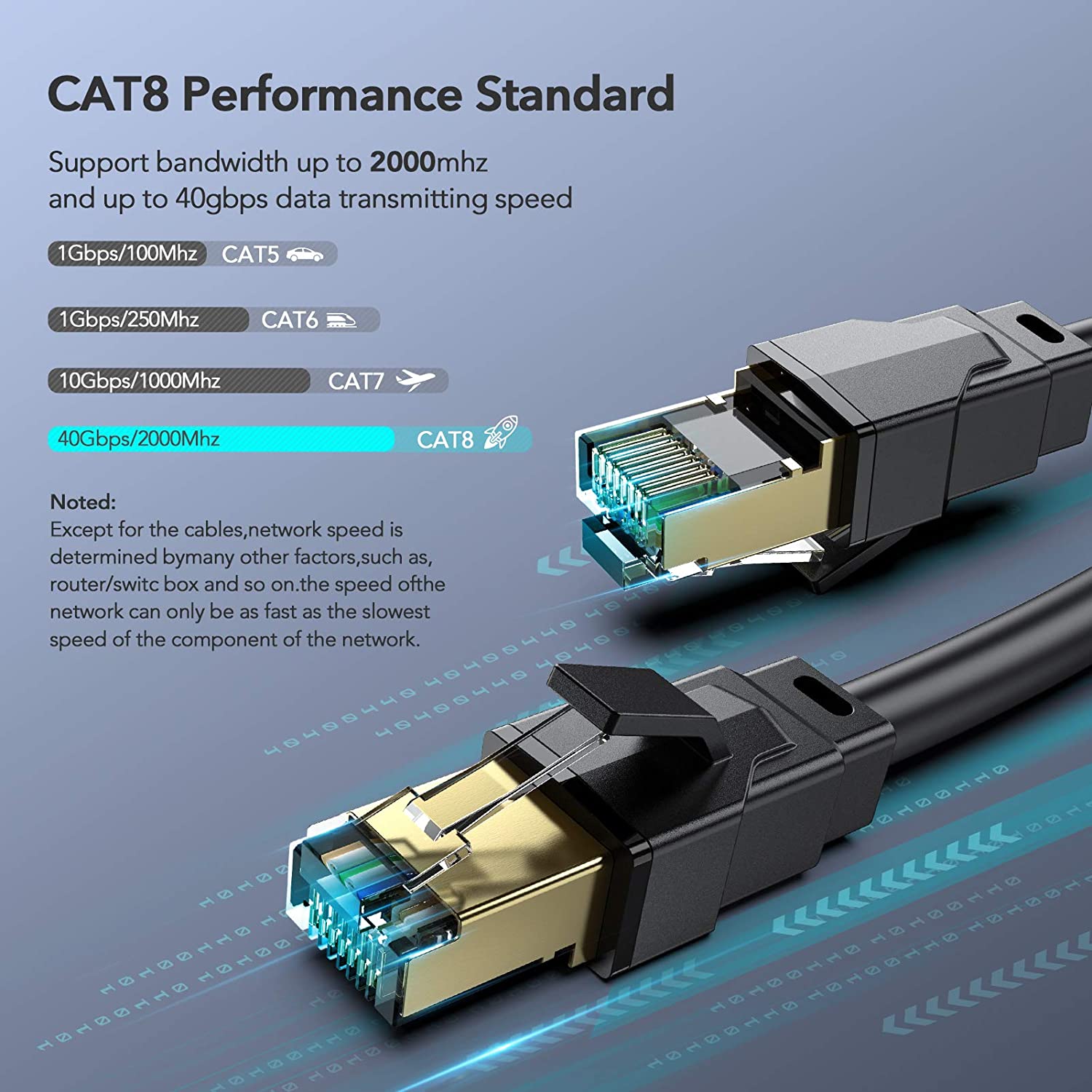 Supports 40 Gigabit Ethernet
2000 MHz rating supports higher bandwidth
Crosstalk suppression for Signal Zero Attenuation
Better heat dissipation for PoE applicationFLUKE PASS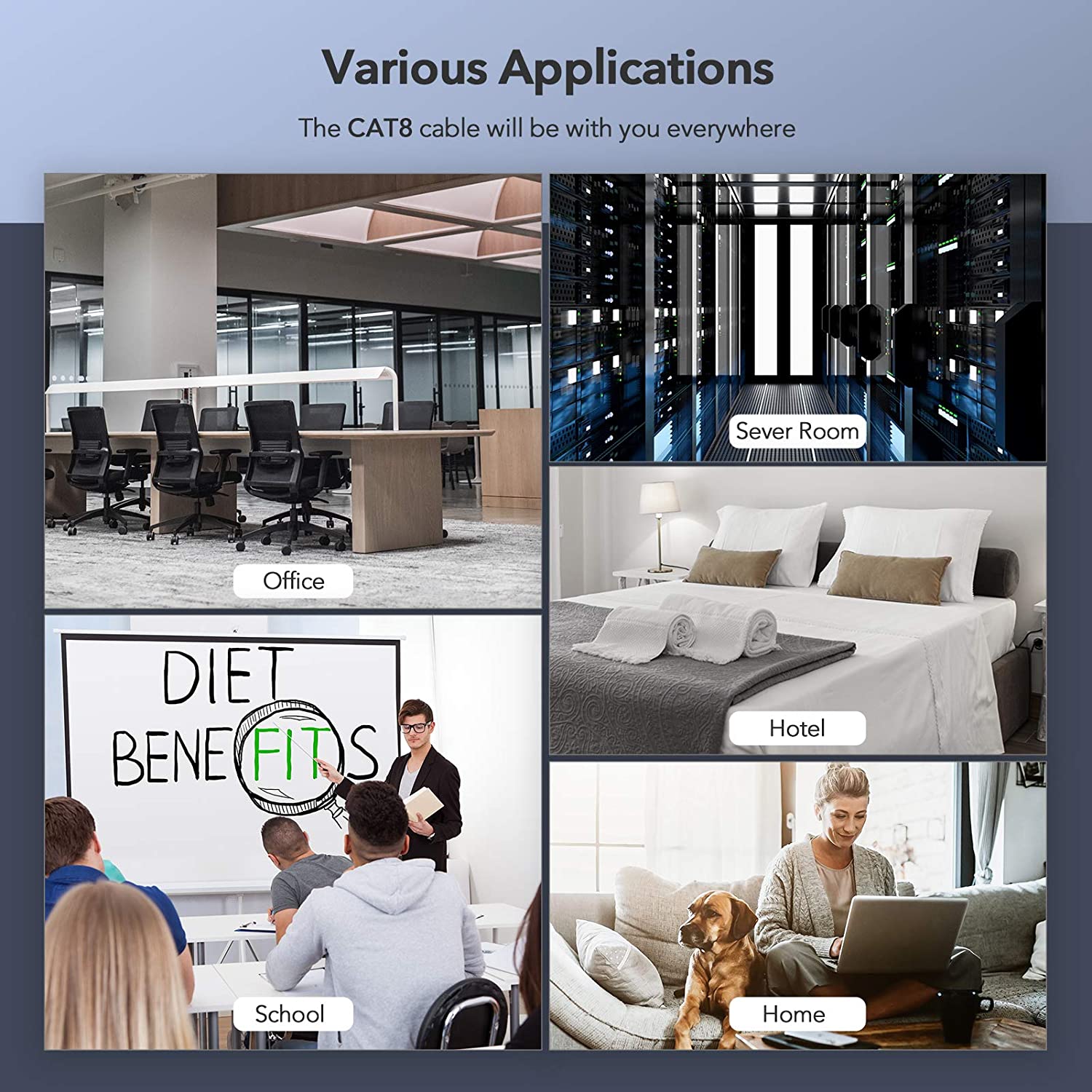 All the cables pass fluke tested.
Totally meet your requirement of network