Verilux® New Upgrade 7-Stage Automatic Pulse Repair Car Battery Charger12V 7Ah(Red)
Rs. 3,389.00
Sale price
Rs. 1,854.00
Wide Application: This 12V battery charger is designed for all types 12V that within 6-150Ah(12V), including AGM, GEL, SLA, Flooded (WET), or any common automotive, deep-cycle, marine, or maintenance-free battery. Friendly Note: Only for 12V batteries.

Multiple protection: Built in circuit protection guards and built in fan.This battery charger offers multi protection against Reverse Polarity, Short Circuit, Over Voltage/Current, Over Charge/Discharge, Overload, Overheat.

7-Stage Charging Protection: This car charger is the latest model newly developed in 2021 and provides 7-level charging to bring more comprehensive protection for your battery and it will stop charging automatically when battery is fully charged.

LCD Screen Design: The battery charger using a backlit LCD display. Smart LCD display shows the charging status and battery status to make you more assured of charging.You can use the battery charger in the dark or at night more convenient.

Note: It can not activate a dead battery or repair a battery which is damaged seriously; it also can not repair a battery back to 100% new.Only work with 12-volt battery, not compatible with 6-volt and 24-volt battery,and Lithium battery disabled.And it's minimum starting voltage is 8V.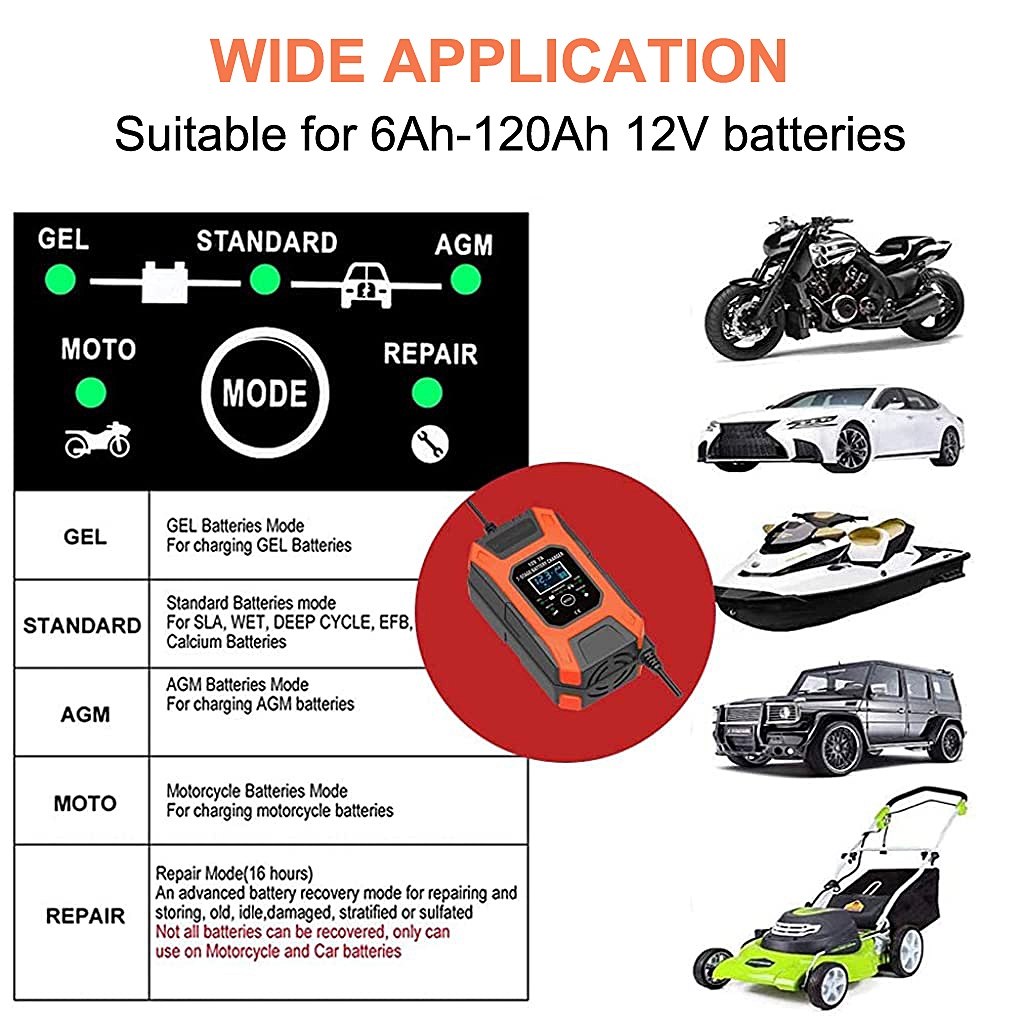 Product description
Microprocessor Control (CPU). 
7-STAGE AUTOMATIC CHARGING:
This is a fully automatic battery charger with 7 charge stages.
Automatic charging protects your battery from being overcharged. So you can leave the charger connected to the battery indefinitely.
7-stage chargers are suitable for most battery types including Calcium, Gel , AGM, Wet , Lead Acid batteries. They may also help restore drained and sulphated batteries.
Types of batteries: Most types of lead acid batteries including Calcium, Gel , AGM, Wet ,  Lead Acid,  etc..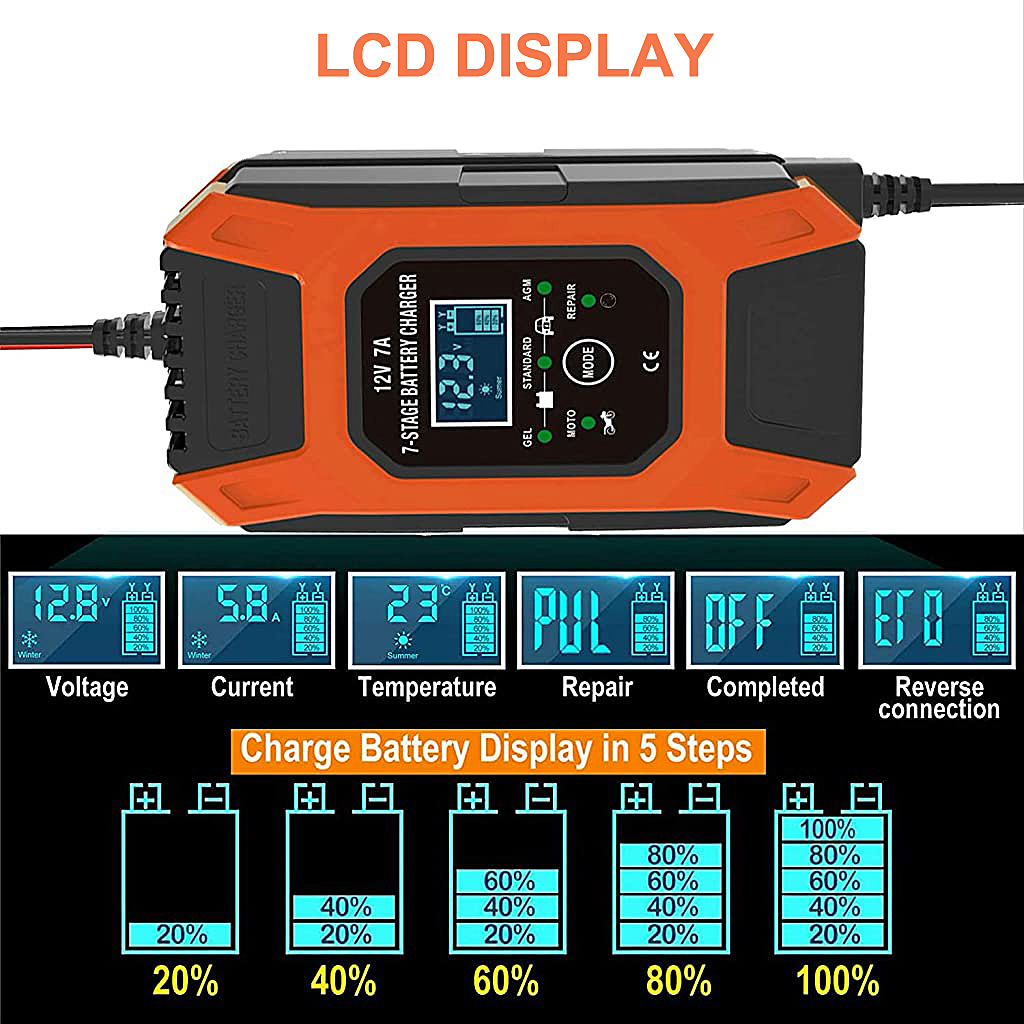 Switchmode technology: Yes
Polarity protection: Yes
Output short protection: Yes
Non battery link protection: Yes
Over voltage protection: Yes
Over temperature protection: Yes
Cooling:  Fan
Input voltage: 100-240V AC, 50-60Hz
Rated output: 12V 7A
Minimum start voltage: 8.0V
Battery range: 6-120Ah
Thermal protect: 65'C+/-5'C
Efficiency: App. 85%.
Compliant standards: CB,CE, IEC60335, EN61000, EN55014
Dimension (L×W×H): 150×86×63mm 
Weight: 415g